| | |
| --- | --- |
| Stad | Malmö |
| Province | Skåne län (224) |
| Datum | 08/03/2020 |
| Timmar | 17:30 |
| Kategori | Events |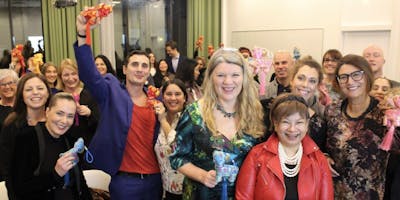 GET YOUR WINGS Delivering a high-value yearly event to inspire, equip and prepare women of all ages to capitalize on their passions and raise their level of influence. POW 2018 was SOLD OUT so we are looking forward to continue bringing value to you through our POW 2020 PLATFORM. 2019 we will be focusing on creating new authors through our Unleash Your Book Event for a smaller more private group. SPEAKERS 2020 WILL BE UPDATED GOING FORWARD THERESE LINDBERG - AURA TRANSFORMATION INSTRUCTOR/LEADERSHIP & COMMUNICATION TRAINER KAREN HOISINGTON AWARD WINNING ART DIRECTOR & BRANDING EXPERT SINGAPORE "P.I.V.O.T. - Win from Within"   "P.I.V.O.T. - Win from Within" at POW 2019 is about making a change, a shift, a direction or a new plan for the life you always wanted to have and the person you always wanted to be.
Karen will take you through the steps to get out of the rut to get your wings and fly.  In order for the eaglet to survive and overcome fear and uncertainty, it has to take the leap of faith out of its comfortable nest. It needs to make a pivot or a change of direction to be what it is originally destined to be - a high functioning high flying individual. In a short presentation and workshop, Karen desires to meet women of all ages seeking change but do not know where to start. Karen's is at her best when she engages personally with her audience in small groups to help them make the journey through concrete actionable goals. Her 5-step process is designed to make each participant more aware of her or his gifting at each life stage.  Highlights: At POW 2019, her talked titled "P.I.V.O.T.
- Win from Within" will cover these 5 points: P - Purpose - Learn why you do things the way you do them and how to do them better and happier I -  Instinct - Recognise your instrinsic motivations to create the future you want V - Values - Develop your habits and behaviours that are congruent with your core values with no compromise O - Order Your Steps -  Assess your current state in concrete terms to change and adapt from where you are T - Trust the Process - Map an action plan to continually move forward to a more a lifestyle of clarity and focus.  Who should attend All women (and men) at a pivotal stage in their life where they sense a need change in their personal or business lifestyle.   ALEXANDRA SKOGLUND EXECUTIVE COACH & YOUNG LEADERSHIP TRAINER The New Generation Leadership Get ready to throw out the old paradigm of what a leader is and what a leader does to enter the leadership of the new generation, where EVERYBODY is a leader and leadership and cooperation is one and the same thing.
Joy spreader and globetrotter Alexandra Skoglund, Certified CPCC Life Coach and Leadership Trainer from CTI®, is joining us to talk about the new emerging Leadership necessary for a sustainable future. Her workstyle matches the rapidly changing societies we are a part of and raises us up to the next level. The first 10 years of her professional life Alexandra worked, studied, traveled, and lived on all continents of the world, where she boldly assumed the challenges of life on the journey to realize her greatest dreams. Alexandra is an expert of getting people in contact with their expertise and how to maximize and live your life to the fullest. Now she is back in Sweden to share her passion for the entrepreneurial lifestyle and human growth. Together with Staffan Taylor, Alexandra is licensee for UngDrive in Region Skåne, one of Sweden's largest entrepreneurship schools for adolescents.
She develops innovative workshops, courses and coaching programs with Playful Productivity as a guideline for people's full potential to blossom. Weather you want to be the best parent, co-worker, C.E.O, friend or football player - Alexandra has the recipes that evokes your unique leadership style to come forth. Highlights: Come and let Alexandra's crazy contagious positive energy and anything-is-possible attitude inspire you to rise up and lead yourself into the future that YOU want to create. Website: www.iamcoaching.com  KAJSA SIHLÉN FOUNDER AND OWNER SOLID CAPITAL GROUP From NOTHING to EVERYTHING Kajsa Sihlén is the Founder and Owner of Solid Capital Group. She started her business from the pain she was experiencing at her former job. A life with No time, No energy and almost No money.
She knew there was more to life than only work. So she started taking action. Now she travels the world, is financially free and lives her life with passion. She is a former business lawyer with background in finance, now building a real estate empire in America. Kajsa will speak about lifedesign, and how to get from nothing to everything. It takes action, courage and she will give YOU the tools she practices daily to help YOU forward in every area of your life. Highlights: Create a every day life that YOU love living Create a financial plan for YOUR desired life How to create leverage in EVERY area of your life Website: www.solidcapitalgroup.se   POW 2019 You can expect the following: ✔ Inspiration ✔ Education ✔ Deal Making ✔ Networking ✔ Speakers with substance ✔ Stand Up Comedian ✔ Live-perfomance Singer ✔ Wow Moments Karen Hoisington Datum Branding Branding Expert Therese Lindberg Aura Mediator Courses Director and Aura Mediator Instructor Kajsa Sihlén Solid Capital Group CEO Alexandra Skoglund I am Coaching by Alexandra Skoglund FOUNDER