Prova på salsa bachata kizomba gratis i Stockholm
| | |
| --- | --- |
| Stad | Stockholm |
| Province | Stockholms län (110) |
| Datum | 22/08/2019 |
| Timmar | 17:00 |
| Kategori | Events |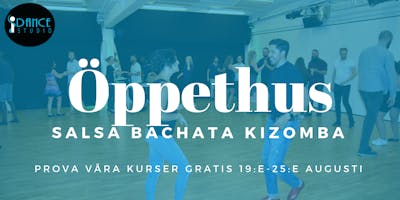 Scroll down for an english version---------Nu är det dags för en ny kursomgång med http://IDance.se/, kom och prova våra kurser i Salsa, Bachata och Kizomba i vår fina lokal vid KTH i Stockholm. Ta chansen att komma och prova våra kurser gratis mellan den 19:e och 25:e AugustiFör mer info se http://idance.se/ eller kontakta oss
[email protected]
eller 0768805555. Bestämt dig för att gå en kurs? Anmäl dig direkt på hemsidan då kurserna brukar vara väldigt populära och de snabbt kan bli fulla. Du behöver inte anmäla dig för prova på kursernaUnder prova på veckan kommer klasserna vara lite kortare än normalt. Mellan kurserna spelar vi musik så du kan träna på det du lärt dig och du har möjlighet till att anmäla dig till kursernaLängd på prova på kursernaNivå 1 - 45 minuterNivå 2-4 kurser - 60 minuterSchemaMåndag 19/8Salsa 3 - 17.10Sensual Bachata 3 - 18:30Bachata 3 - 19.50Tisdag 20/8Salsa Ladies Styling - 17.10Salsa 4 - 18.20Bachata 4 - 19.45Salsa 1 (Nybörjare) - 21.10Onsdag 21/8Kubansk Salsa 3 - 19.50Kubansk Salsa 2 - 21.10Torsdag 22/8Bachata 1 (Nybörjare) - 17.10Salsa 2 - 18.20Bachata 2 - 19.45Salsa 1 (Nybörjare) - 21.10Fredag 23/8Salsa 1 (Nybörjare) - 17.00Lördag 24/8Salsa 2.5 - 12.30Salsa 2 - 13.55Bachata Ladies Styling 15.20Söndag 25/8Bachata 1 - 15.55Bachata 2 - 17.00Bjud in dina vänner så de också kan komma och hitta dansglädjen med oss.
---------------------------It´s time for a new semester with http://idance.se/. Come and can try all our classes in Salsa, Bachata and kizomba for free. Bring your friends and come dance with us. The 19th - 25th of August we will have free trials for our classes at IDance.se. Come and dance with us. For more information see http://idance.se/ or contact us at
[email protected]
or 0768805555. Have you already decided which course to take? Sign up on the webpage, the courses tend to get fully booked. No registration is needed for the trial classesPlease invite your friends so they also can find the joy of dancingDuring the free trial week we will have a little bit shorter classes and after the classes we will play some music so you can practise without the teacher.
This is so you have time to ask questions and sign up to the classes.Level 1 + Open level courses - 45 minutes longLevel 2-4 courses - 60 minutes longScheduleMonday 19/8Salsa 3 - 17.10Sensual Bachata 3 - 18:30Bachata 3 - 19.50Tuesday 20/8Salsa Ladies Styling - 17.10Salsa 4 - 18.20Bachata 4 - 19.45Salsa 1 (Beginner) - 21.10Wednesday 21/8Kubansk Salsa 3 - 19.50Kubansk Salsa 2 - 21.10Thursday 22/8Bachata 1 (Beginner) - 17.10Salsa 2 - 18.20Bachata 2 - 19.45Salsa 1 (Beginner) - 21.10Friday 23/8Salsa 1 (Beginner) - 17.00Saturday 24/8Salsa 2.5 - 12.30Salsa 2 - 13.55Bachata Ladies Styling 15.20Sunday 25/8Bachata 1 - 15.55Bachata 2 - 17.00