."Secrets to Meditation" i Stockholm
| | |
| --- | --- |
| Stad | Solna |
| Province | Stockholms län (110) |
| Datum | 15/09/2019 |
| Timmar | 16:00 |
| Kategori | Events |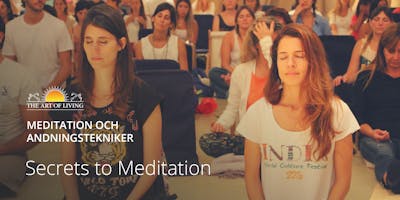 *English below Upptäck den enkla, effektiva metoden att meditera via andningen, som har hjälpt miljoner människor runt om i världen. Bemästra ditt sinneFå insikter om hur du kan hålla dig lugn och positiv, även i utmanande situationer. AndningsteknikerLär dig den vetenskapligt beprövade "bälgandningen", som ökar din energi, lugnar sinnet och minskar stress. Unika guidade meditationerLär dig hur du kan slappna av och släppa taget, även om meditation "aldrig har fungerat för dig" tidigare.  Du får också en introduktion till Art of Living Happiness Program - vår flaggskeppskurs som djupdyker i den kraftkälla som andningen är. Många säger till oss att de har svårt att få tid att meditera, och att när de försöker, så kämpar de med att lugna sitt sinne.
Bespara dig själv år av ansträngning. Fastän meditation kan vara enkelt, så är det väldigt subtilt, och det är inget vi rekommenderar att du försöker lära dig via YouTube. Vi är specialiserade på andningsövningar som snabbt lugnar sinnet och gör det enkelt att meditera. Människor som har praktiserat andra meditationstekniker i årtionden har sagt att våra andningstekniker har fördjupat deras meditation, och gör att de regebundet upplever det som tidigare brukade vara sällsynta toppupplevelser. Den här kraftfulla 90-minuters-sessionen ger dig de verktyg du behöver för att snabbt minska stress och ångest, och hitta ro och fokus. Du kommer att få ett smakprov på en enkel meditation och få introduktion till våra effektiva metoder för att uppleva harmoni som varar.
Sagt om workshopen "Secrets to meditation" "Ett ställe där du kan sakta ner, vila och hitta balansen." "Laddade mina batterier på några minuter." "Utmärkta verktyg för att handskas med tuffa situationer." "Jag kom i synk med mitt sanna jag och syfte i livet." Ledande publikationer och experter om hur Art of Living påverkar liv: http://bit.ly/media_about_us Vetenskaplig forskning om Art of Livings andningstekniker*     *Happiness Program är för välbefinnande och vitalitet, vila och föryngring. Resultaten ovan kommer från oberoende forskningsstudier, som är baserade på en anpassning av det vanliga Happiness Program till grupper med särskilda behov.Vi ber vi dig att inte ta med barn under 13 år till evenemanget, för att vi ska kunna erbjuda alla bästa möjliga meditationsmiljö.Förfriskningar serveras i slutet av evenemanget.
---------------------- Discover the Easy, Effective Approach to Meditation Through Breath, That's Helping Millions Around the World. Mind Mastery:Get insights on how to stay skilfully peaceful and positive, even through challenging times. Breathing Techniques:Learn the science-backed 'Bellows Breath' to boost your energy, calm your mind and reduce stress. Unique Guided Meditations:See how to fully relax and let go, even if meditation has never "worked for you" before.   You'll also get an introduction to the Art of Living Happiness Program - our flagship course that dives deep into the power of breath. So many people tell us they find it hard to make time for meditation, and when they do try to meditate, they struggle with quieting their mind.
Save yourself years of struggle. While meditation can be easy, it's very subtle, and not something we recommend trying to learn on YouTube. We specialize in breathing exercises that quickly quiet the mind and make meditation easy. In fact, we've even had people who've practiced other meditation techniques for decades tell us our breathing techniques reliably take them to the deepest places of meditation, that used to be rare peak experiences. This powerful 90-minute session will give you the tools you're looking to quickly reduce your stress and anxiety, find peace within, and stay calm and focused. You'll experience a taste of effortless meditation & get an introduction to our powerful framework for lasting peace of mind.   Here's what people often tell us about the 'Secrets to Meditation' workshop: "A space to slow down, rest, and get centered" "Recharged my energy in minutes" "Excellent tools to deal with tough times" "Tuned in to my true self and purpose in life"   Leading Publications & Experts on How The Art of Living is Changing Lives http://bit.ly/media_about_us Scientific Research on the Art of Living Breathing Techniques*     * The Happiness Program is for overall well-being and vitality, rest and rejuvenation.
The above results are from independent research studies, based on an adaptation of the standard Happiness Program to special needs groups.   FAQs How can I contact the organizer with any questions?
[email protected]